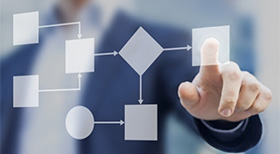 BidNet: Helping government entities manage & track their bidding process
Since 1999, BidNet has been helping local government entities across the country automate their vendor and bid management process. Serving over 1,200 agencies throughout the United States, BidNet Direct has helped pave the way for online sourcing and a paperless procurement process.
BidNet's core SaaS solution helps purchasing professionals run a smooth and simple procurement process by using core, online tools designed specifically with local governments in mind: Vendor Management, Bid, Addendum & Award Distribution, and Audit & Control. The BidNet Direct bid system assists purchasing agents from posting the bid to awarding the contract.
Vendor Management
Vendor management is at the core of BidNet Direct's system. Our shared vendor database gives participating purchasing teams access to thousands of registered vendors. Quickly search who is registered and qualified for specific bids and RFPs. Vendors self-register online and keep their contact information up-to-date by renewing each year. Free access and registration is open to all interested vendors and there is no charge to view, download documents or respond for any bid relevant to their business. An extensive dashboard and reports are available based on vendor location, WDMBE, NIGP codes and more criteria.
Bid, Addendum & Award Distribution
With a few simple clicks you can create solicitations, upload documents and notify vendors based on NIGP codes. Though posting a solicitation is simple, no detail is left out, including insurance & bond requirements, contract terms and more. Accept responses offline or with our secure and sealed electronic bid submission.
Buyers also have access to an extensive bid library that contains thousands of previously written specifications that provide valuable insight when creating new solicitations for similar product or service bids and RFPs. Addendum can be added to the open solicitation at any time before the response deadline. Online Q&A can also automatically be made into an addendum and accessed by all registered vendors. There is no size limit on documents to the original solicitation or addendum on BidNet Direct.
The award management tool allows for configurable distribution of award information, providing an easy way to publish awards and bid results for vendors to view. When applicable, the easy line item or lump sum awarding tool makes awarding quotes quick and simple.
Audit & Control
All solicitation activity is tracked automatically and stored on our secure solution. Reports by solicitation or by time period can be exported to include the number of matched vendors, downloaded documents, responses and more. In addition, a time-stamped view of when the vendor accessed documents or was notified is stored.  Purchasing agents also have the ability to create on demand drill-downs and reports that detail further information on a per-solicitation basis. The buyer's dashboard provides real -time views of data and gives you a snapshot of all your recent activities in one location.
Core Benefits
With BidNet Direct as your eProcurement solution, you will be able to streamline your entire purchasing process online while benefiting from a pre-existing, robust vendor pool. By managing your formal and informal solicitations in one location, you'll be able to easily keep track of progress, find qualified vendors, view proposal submissions and issue contract awards within minutes, saving you precious time and helping you cut costs.
Find out how BidNet Direct can help your government organization today!