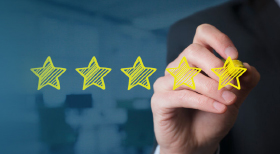 Vendor Performance Management
For procurement managers, one particularly challenging aspect involves determining how to efficiently track, score and evaluate the performance of vendors after the contract and service has begun. No matter whether an organization is sourcing goods and services from a longtime partner, or trying out a new provider, agencies need tools and resources that enable them to understand how vendors are performing.
BidNet Direct Vendor Performance Management provides procurement managers with the tools they need to efficiently and effectively track vendor performance across multiple projects.
Identifying and Reducing Vendor Risk
One of the greatest benefits that Vendor Performance Management delivers is the ability to identify vendor risk, and to address these risks as soon as possible. This is a powerful concept that can reduce the potential for problems with vendor performance.
Users of BidNet Direct Vendor Performance Management are equipped with state-of-the-art risk reduction tools that allow them to identify quality and regulatory compliance issues associated with specific vendors in near real-time, gather feedback and performance insights, analyze work performance as a project proceeds and initiate discussions and corrective measures with vendors as required.
Creating Vendor Performance Scorecards
Since every vendor specializes in a different area, it's helpful for procurement managers to be able to create customized evaluation criteria and scorecards for each vendor. The BidNet Direct Vendor Performance Management module allows purchasing teams to do exactly that, as well as schedule automated deadlines and reminders; track any project deficiencies or infractions during the life cycle of a project; create detailed evaluation scoring grids and weighted factors as necessary; and optionally allow vendors to view and comment on their own performance evaluations.
Interactive Vendor Evaluation
The Interactive Evaluation feature included with the Vendor Performance Management module makes it easy to assess vendor performance and compile detailed reports, optionally getting the contractor involved. Interactive evaluation also facilitates the resolution of disputes between buyers and vendors, allows for the revision of completed assessments to ensure all parties are satisfied before a project's completion, and provides users with the automated compliance calculations of a project as well as individual vendor scores.
For purchasing departments, valuating vendor performance remains one of the more complex and resource-intensive aspects of the procurement process. Vendors must be evaluated fairly but thoroughly, and buyers must be sure that their suppliers are adhering to the strict compliance standards that are common to any modern procurement initiative. By assembling a robust suite of tools to handle comprehensive vendor evaluation, the BidNet Direct Vendor Performance Management module delivers just what procurement managers need to ensure that their vendors are operating in an efficient and compliant manner. 
Find out how BidNet Direct can help your government organization today!