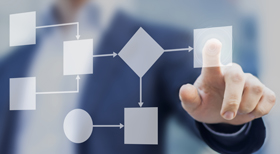 Approval Workflows
It's no secret that the procurement approval process can be complicated. Because the creation of any solicitation request requires input from multiple stakeholders before an agreement on how to implement an initiative can be reached, obtaining approvals takes time and effort. Fortunately, BidNet Direct provides tools to streamline and simplify the approval process, empowering procurement managers and their teams to easily navigate purchasing projects from the creation and evaluation stage to the final contract award.
Creating an Approval Workflow
In order for an approval workflow tool to be effective and efficient, it must be customizable to meet the needs of any procurement initiative. BidNet Direct's automated Approval Workflows can be configured according to the requirements of a given project, and can be implemented as sequential or parallel approval flows.
Automated Approval Workflows support approval processes for all items that buying organizations share with vendors, including bid distribution, amendments and award result documents. Additionally, custom approval steps based on type of solicitation, value of bid, user identity or other criteria can be implemented as needed.
Who Can Approve?
Each step in an Approval Workflow can be approved in multiple ways. Authorized approvers can include an individual user, a group of users, or someone who is granted a specified access role in the approval process.
BidNet Direct Approval Workflow works seamlessly with all other BidNet Modules, such as bid evaluation, vendor performance management and contract management modules, to ensure an all-in-one procurement management experience.
An Example: How Approval Workflows Work
Typically, Approval Workflow is based on a bid threshold amount and type of solicitation. If an RFP is expected to cost more than $100,000, it will often require the approval of both a manager and second-level manager before being approved for publishing. Once published, the solicitation will be distributed to vendors.
If an RFP is worth less than $25,000, however, sometimes it will only require the approval of a single manager before being published. Requests for Quotes (RFQs) can be even easier to approve, since they are more exploratory in nature – RFQs often go straight from the draft stage to being published and distributed, with no approval needed.
Regardless of the type of solicitation a buying agency intends to publish, the BidNet Direct Approval Workflow Module further simplifies the process for procurement managers, allowing them to customize workflows according to the requirements of every purchasing initiative they undertake.
Find out how BidNet Direct can help your government organization today!