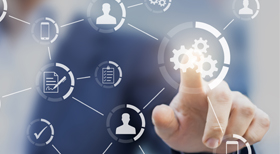 Contract Management
Contract management is a deceptively simple term, considering that it involves a complex series of inter-related tasks that must be handled by, and coordinated across, multiple members of a procurement team. Every contract has unique elements and conditions and in order to effectively manage vendor contract lifecycles, purchasing departments need to have tools that streamline and simplify the contract management process. Luckily, there is a solution that makes contract management streamlined and less cumbersome for the entire organization.
BidNet Direct Contract Management is the all-in-one solution that helps procurement teams get the most value out of their efforts. With three levels of functionality available, BidNet Direct users can choose the Contract Management edition that best suits their needs and budget now, while retaining the option to upgrade at anytime. The three editions available are:
Lite
The Lite edition allows users to add executed contracts, manage contract type, search through the contract library, set up notifications and alerts for users, view and audit contract history, and also provides unlimited document storage and the ability to view and download contract reporting.
Team
In addition to the functionality of the Lite version, users of Team benefit from additional features including prepared document templates, approval workflows, the ability to redline contracts, e-signatures and bar-coding, detailed performance metrics, an unlimited number of users, and functionality for both the buy or sell-side of contracts.
Professional
The Professional edition of the Contract Management module includes all the features included in the Team and Lite editions, as well as added functionality including dynamic templates, access to clause libraries, custom branding options and an advanced configurable workflow. The Professional edition can be customized to meet the specific needs of any procurement department and is a best-in-class contract management suite.
Contract Management Made Easy
For today's purchasing departments, contract management no longer has to be an unnecessarily complicated and demanding process. BidNet Direct Contract Management puts powerful, easy-to-use tools in the hands of procurement specialists, empowering them to simplify every aspect of contract lifecycle management. The flexibility of BidNet Direct allows teams to decide what level of functionality they require to meet their organizational needs and to customize their systems accordingly – providing a simple solution to a complex problem.
Find out how BidNet Direct can help your government organization today!