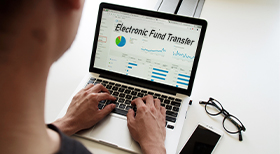 Eliminate paper bonds and accept digital e-bond or EFT submissions
Current market conditions due to the COVID-19 pandemic have required procurement to become even more digital with electronic bid responses and electronic bond validations. BidNet Direct has now made it simple to eliminate paper bonds and accept digital e-bond or Electronic Funds Transfer (EFT) submissions which provide integrated response tracking and validation of the bond. These new features of our electronic bid submission solution, known as e-bond and EFT submissions, are now available free of charge to participating buying organizations.

Bonds are traditionally used in construction and other large procurements to ensure that a supplier has the funds to start and complete the project, as well as the staff to complete the project they're undertaking.
In the past, buyers had to request a physical bond from the supplier. Now, with non-essential physical interactions discouraged or banned to prevent the spread of COVID-19, many buying organizations and suppliers are looking for ways to transfer the bond digitally.

The e-bond and EFT submission features complement our Electronic Bid Submission (EBS) solution to allow uploading of the electronic bonding certificate during the bid submission process. To accept an e-bond, BidNet Direct users can simply click this option when creating a notice on BidNet Direct. As suppliers submit bids, they must upload either a PDF or a TIFF of their bond. After the solicitation is closed, when the buyer opens the bond file and clicks on the seal, the certificate seal will link to the bonding company or bank.
Using electronic bid submission and e-bonding with BidNet Direct adds another layer of simplicity and efficiency, making it easy for buyers to maximize the use of digital purchasing. The process is simple for suppliers as well. Instead of requesting a physical bond from the suppliers' bank or surety company, the supplier simply requests an e-bond certificate with an electronic seal.

For extremely large construction projects or contracts, the ability to utilize an electronic funds transfer (EFT) – meaning a temporary funds transfer from the supplier to the agency -- can also be requested as part of the electronic bid submission process. Sometimes, instead of using a bond (which is validated by a bank or Surety company) a buyer may need to request a transfer of funds to ensure that the supplier can complete the work. With online banking, this process can be digitalized with an EFT, which can be requested within solicitation responses on BidNet Direct.

Whether using e-bond certificates or an EFT, digitizing this step of the procurement process to ensure that the supplier has enough money and manpower to complete the project adds an extra layer of assurance in these unprecedented times.
Find out how BidNet Direct can help your government organization today!