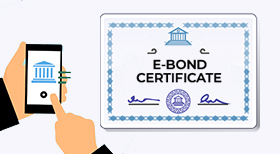 E-bonding: Best Practices in Procurement
When it comes to major procurement initiatives in the construction sector, buying agencies are increasingly turning to the most efficient and practical way to ensure the financial stability of the vendors they work with - electronic bonding or e-bonds.

Bonds are a way for construction suppliers to show buyers that they have access to adequate up-front funding to begin a project, complete it and pay for the costs of hiring staff and sourcing materials. Bonds are usually issued by banks or surety companies, who act as financial backers to the suppliers requesting the bond. If a construction supplier fails to pay the bills during a project, the bank or surety company that issued the bond will be held liable along with the supplier for costs related to failure to meet their contractual obligations.

Before the advent of digital procurement platforms, bonds had to be provided in physical form by suppliers. Now, with comprehensive sourcing software, bonds can be provided electronically, saving the time and expense associated with creating a paper bond and delivering to the buying organization.
How e-bonds work
E-bonds are submitted as part of the bid process. To obtain an e-bond, a supplier simply makes a request to a bank or surety company to provide the e-bond certificate with an electronic seal. Once received, the supplier provides the certificate to the buyer.

Typically, suppliers are asked to provide a digital image of their e-bond when submitting a bid on an opportunity. Once the submission period is finished, the buyer will open the bond provided and click the certificate seal, which will direct the buyer to the surety company or bank that provided the bond.
Note: Some buying agencies offer two options for bonding, (1) by e-bonds or (2) by Electronic Funds Transfer (EFT), whereby suppliers provide buyers with a temporary EFT as part of the bid submission process.

Once a buyer confirms the e-bond is valid and the supplier has adequate financial resources to cover the costs associated with the work they are bidding on, the buyer can then decide if the supplier is the right choice for the project.
Conclusion
In the context of the ongoing pandemic, the ability to exchange essential documents electronically is critical to the advancement of public and private construction projects. E-bonds take the physical interaction out of the process, simplifying an important step of the contract and ensuring that stakeholders enjoy the highest safety standard.

E-bonds simplify the bid submission process, help to lower risk and ensure that suppliers are well-positioned to handle the jobs they bid on. Electronic bonding acts as a particularly ideal solution for buying agencies who must source suppliers for multiple large-scale construction projects, making it easy to verify that suppliers can be counted on to complete the work they are contractually obligated to deliver.
Find out how BidNet Direct can help your government organization today!