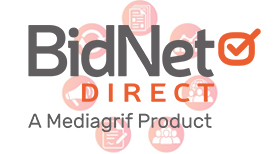 BidNet Direct: Sourcing. Made Simple. Video
BidNet Direct, a product of Mediagrif Strategic Sourcing, is your advanced procurement solution. Our modules take your online sourcing tools beyond bid distribution & vendor management. From solicitation creation to contract award and project performance tracking, easily manage every aspect of procurement online.
For more than 30 years, we have helped streamline the purchasing process while connecting buying agencies with the right vendors at the right time. Watch this short video on how Mediagrif Strategic Sourcing can help your organization throughout your purchasing process.
Find out how BidNet Direct can help your government organization today!