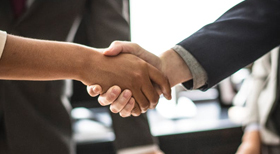 DBE: Connect with a diversified vendor pool
When it comes to awarded bid opportunities, there is a significant disparity amongst the amount of Women, Minority, and Disadvantaged Business Enterprise (WMDBE) available, and those receiving contracts. Therefore, procurement policies and requirements now often include a minimum requirement for the number DBE vendors that must be informed of a bid opportunity. For that reason, many government organizations at the federal, state, and local levels are working hard to ensure that these types of businesses are involved with the bidding process.
Government DBE policies
As any local government agency that has worked with Federal or FEMA funds will know, these federally backed solicitations are required to reach a specified number of WMDBE and HUB certified vendors. Each state, and even many individual municipalities, may also have their own requirements for reaching out to these vendors. Traci Gorman, Procurement Officer for the Town of Parker, adds "There are requirements that we have to have that sometimes vendors don't understand in regards to FEMA. We have to have a certain percentage of the solicitations we issue out covered by women and minority owned businesses, and we have to prove that we have issued out our solicitation to them and given them the opportunity." Another example is the City and County of Denver, which put a procurement policy into law, ordinance CB14-0039, to combat disparity and generate new procurement opportunities among WMDBE businesses.
Many states also have departments working to promote the local DBEs within both the private and public (government) sectors. The New York State Division of Minority and Women's Business Development has a mission to "promote equality of economic opportunities for MWDBEs and to eliminate barriers to their participation in state contracts. We supplement New York State's economic leadership with information and resources that increase access to information and opportunities for minority- and women-owned businesses throughout the state." The State of New York, along with other states, also have DBE expositions, trade fairs, and directories for state and local agencies to find women, minority, and disadvantaged vendors.
Veteran owned businesses are also key at the Federal procurement level, and their importance has trickled down to many state and local government purchasing professionals as well. Organizations such as NaVOBA and VA OSDBU have been created to assist Veteran owned businesses establish themselves and participate in government procurement.
DBE outreach
Therefore, it's extremely important that government agencies are aware of the DBE vendors available in their area, and that these vendors have access to their solicitations. No matter the funding, it is important that your bids reach as many woman, minority, and disadvantaged businesses as possible. But how can an agency go about finding these vendors and informing them of their bid opportunities?
In addition to the trade fairs and directories, online government purchasing platforms such as BidNet Direct allow you a full audit trail of who has been alerted to a solicitation, downloaded documents, and more. With a variety of vendors registered throughout 31 states, BidNet Direct can help connect local government agencies with the required number of WMDBE to receive federal funds for their solicitations. Jennifer Sangiorgi, one of BidNet Direct's Buyer Support Specialists, states that many buyers find having a database of vendors with auditable and tracked information, such as WMDBE, extremely helpful. "We get calls about minority or DBE outreach whenever federal funds are being used, such as after a natural disaster. Buyers want to ensure that they are following all necessary protocols, and be able to prove that their solicitation has reached the required number of these businesses. If our agencies can't show that they've reached the necessary number of WMBDE vendors, then they often won't receive funding and it will delay their solicitation. Therefore, we make it as easy as possible for them to alert, and then more importantly track, these businesses."
Find out how BidNet Direct can help your government organization today!