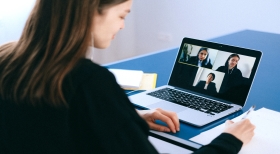 How E-Procurement Supports Remote Team Collaboration
During the ongoing global pandemic, the way business operates has been turned on its head. Suddenly, face-to-face meetings have become forbidden; spending time at the office (for those that have to be there) is less an experience of collaboration and productivity and more an exercise in vigilance and protocol. Things have changed, and we're still getting used to it.
Thankfully, some silver linings to this difficult situation are emerging. Many organizations have become aware that not only can employees work effectively from home, but they can actually be more productive without the stress associated with long commutes and unnecessary expenditures. From a business standpoint, it's also comforting to know that there are tools available to make truly effective collaboration possible for teams, even as some or all members are based in remote locations. The most powerful collaboration tools in the purchasing professional's toolbox are the suite of useful solutions known collectively as e-procurement.
E-procurement gives users easy-to-use tools that they need to bring procurement online, collaborate and get essential work done during challenging times.
How Does E-Procurement Make Remote Collaboration Work?
E-procurement refers to a suite of solutions used to facilitate the procurement process and improve communication, document sharing, vendor management and more.
These tools enable organizations to support remote collaboration in several ways. At a high level, by moving the entirety of the purchasing process from paper-based to a centralized online platform, e-procurement helps purchasing departments streamline every aspect of procurement from solicitation to award.
On a granular level, each individual solution within the larger e-procurement suite facilitates a particular task and brings it online to a shared platform, where multiple users can securely access the information they need to keep business moving. Below are just a few areas where e-procurement fosters remote team collaboration, delivers increased value and improves efficiency for buying organizations.
Creating, Sharing and Distributing Documents
By making it easy to create RFx documents from a template-driven system and share documents with relevant stakeholders, e-procurement enables collaboration during the creation process. E-procurement allows users to easily clone existing RFx documents or choose a format from a pre-approved template library. Once approved, it is now ready to be published online and distributed to vendors.
Role-based Access Controls
With e-procurement, organizations can ensure that access to bids, related documents and other critical information is provided only to those team members that require it. Access can be granted based on role or on a per-project basis and is controlled by an administrator designated by the buying authority.
Vendor Prequalification
Prequalifying and managing a large pool of vendors is easy with e-procurement. Thanks to digital tools and a streamlined process, remote teams can quickly onboard new vendors, review certifications, and securely distribute bid documents and addenda to vendors as needed.
Bid Evaluation
E-procurement allows authorized users to review and compare bids as they are received from vendors, simplifying the process of determining the winning vendor. After submitted bids have been evaluated and a winner selected, automated reminders can signal relevant stakeholders that their approvals are needed, connecting the right person with the right document at the right time.
Vendor Performance Management
Tracking and evaluating vendor performance during large procurement projects can be essential to ensuring timelines are met and budgets are respected. E-procurement facilitates vendor performance management by bringing the process online, allowing multiple users to submit feedback and notes as a project moves forward. Vendors are provided the opportunity to respond to questions and resolve disputes via the performance management interface.
Moving Forward, Together
While it's undoubtedly difficult to adjust to the many changes we're all weathering during this period of uncertainty, it's vital that remote teams keep communication lines open and maintain a sense of 'being on the same page' during collaborative projects. Thankfully, e-procurement enables teams to do exactly that, while delivering strong value for buying organizations. At a time when it can be tough to keep in touch, e-procurement tools allow team members to work together, engage with each other and to stay focused on important work that needs to be done.
Find out how BidNet Direct can help your government organization today!