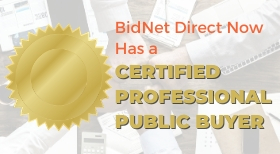 BidNet Direct adds CPPB procurement professional to further improve e-sourcing
BidNet Direct is excited to announce that Shannon Sprague, a Certified Public Procurement Buyer (CPPB), has joined our team. Shannon will be helping our local and state buying organization customers better streamline their sourcing process with training and gathering feedback on current, and future procurement tools added.

Shannon has nearly 20 years of public procurement experience in Colorado, including City and County of Denver, Denver International Airport, Auraria Higher Education Center, and Adams County. She also attained LEAN Six Sigma Green Belt Certification. Before joining BidNet Direct, Shannon was appointed as the 2020 Vice President of Rocky Mountain Governmental Purchasing Association, after serving more than 10 years on the executive board. With Shannon's decades of experience and credentials, she will be helping BidNet Direct with the developing and further improving our procurement tools for public buyers.

Having a CPPB purchasing professional adds another layer of knowledge to the BidNet Direct team. It will help us build more robust and effective tools for all the public buying organizations across the country. Our customers have always provided helpful feedback; however, now we can tap into Shannon's in-depth knowledge and expertise to bring even more insight into improving our services.

Having Shannon on the team also means that customers can communicate their feedback to BidNet Direct, confidently knowing that it is being taken care of by someone who has experienced many of the same types of procurement challenges. Moving forward, Shannon will be doing hands-on training on module solutions with local agencies, which will allow our customers to have their questions answered by a procurement professional in real-time.

"We are very excited to have Shannon onboard. She adds a level of great experience and even more credibility to our team. Having first been our customer for many years and her familiarity with the solution, her insight adds a new layer of how we can further help our customers. Her high level of procurement expertise will help us continue providing a high standard e-sourcing solution and help our customers be successful saving time and digitalizing procurement." said Mark Eigenbauer, President of BidNet.

Shannon's addition to the team adds to our goal to continue providing a superior and streamlined process support to our customers - both local and state buying organizations, and suppliers. BidNet Direct is excited that our team is growing and evolving to better serve our customers to the highest standard in the public procurement industry.
Find out how BidNet Direct can help your government organization today!