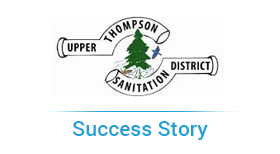 Joining an e-sourcing platform to meet compliance standards
Electronic procurement solutions deliver many benefits to state and local government adopters, including local special districts trying to manage layers of federal compliancy.
Colorado's Upper Thompson Sanitation District (UTSD) is a prime example of a special district that adopted an electronic procurement solution to become compliant with regulations, manage purchasing projects, and to streamline procurement processes.
How a crisis became an opportunity
In 2013, a major flood devastated the region that UTSD serves. Federal disaster recovery funds were available for governments and special districts affected by the disaster, but they came with a catch: To be eligible for the money, organizations had to prove that they were applying strict compliance standards to any projects the funds were used for. These standards were mandated by the federal government.
When Suzanne Jurgens joined UTSD as financial officer in 2014, she quickly realized that the District would have to radically revamp its procurement practices in order to be eligible for federal disaster assistance.
"Before the flood in 2013, we did not have a formal purchasing policy," explained Jurgens. "We were not pursuing anything beyond meeting the statutory [state compliance] standards." The federal government required that UTSD upgrade their compliance practices to gain access to federal funds, something the special district achieved easily with BidNet Direct and the Rocky Mountain E-Purchasing System. UTSD's integration with Rocky Mountain E-Purchasing System now brings their processes into the modern digital age.  
Joining other local agencies
BidNet Direct is an e-sourcing platform comprised of a network of purchasing groups throughout the country, utilized by government buyers and vendors interested in an easier way to distribute, respond to and manage bids. One of the largest purchasing groups on BidNet Direct is the Rocky Mountain E-Purchasing System with over 200 local governments publishing and managing formal and informal solicitations.
Jurgens was aware of the Rocky Mountain E-Purchasing System through joint contracts with other agencies that were already members of the platform. She knew that the time was right to join the Purchasing Group with multiple upcoming solicitations needing outreach. After realizing first-hand how easy the platform was to publish solicitations, manage vendors and audit projects, she explains that "[BidNet Direct] allows you to follow your purchasing policies easily."
Ease of use
BidNet Direct's easy-to-use and quick processes are a benefit for Jurgens, who, as a financial officer, has responsibilities other than just managing UTSD's purchasing. "Administering these projects is only part of my job. But I like how easy Rocky Mountain E-Purchasing makes it."
BidNet Direct offers local government organizations and special districts a core bid and vendor management solution on the platform at no cost. "The no-cost solution is just beautiful… The [platform] is very intuitive, I really like that I can copy and paste information [BidNet Direct].  Using Rocky Mountain E-Purchasing is uncomplicated," said Jurgens. Purchasing professionals can meet or exceed purchasing policies through a set of online vendor management and bid distribution tools that you need to streamline processes, save time and reduce strain on resources.
Part of the core platform is real time tracking and reporting. BidNet Direct provides a complete audit trail and time-stamped tracking in order to deliver a detailed picture of bid activity at every stage of procurement. Jurgens says, "I really appreciate the reporting [functionality]… it adds another layer [to] support compliance."
Buyer support
Although the platform itself is very intuitive, BidNet Direct's strong support team in place is important to Jurgens. "The support is phenomenal … I love that I can be sitting here at 6 o'clock and be speaking with Shinelle, who is excellent. I like that the support is there early in the morning and the support is there late at night. At least beyond the 8 till 5. That's really nice." BidNet's support team's 8AM-8PM EST availability can be helpful for users such as Jurgens, who are located throughout the country across time zones.
The system's accessibility is also very important to Jurgens. "Because I'm a weekend worker and a night worker, I really like that I can [access the system] twenty-four seven, check updates, look at reports, see how many people have downloaded our plans and specifications. It's been very simple to use," she says. 
With ever changing compliance standards, whether it be at the federal, state, or local level, Colorado's Upper Thompson Sanitation District's decision to utilize the Rocky Mountain E-Purchasing Group was a step forward in keeping up to date with these changes. UTSD exemplifies how a special district can use an e-sourcing solution to easily manage their purchasing projects and streamline their entire procurement process.