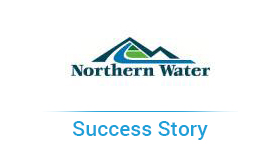 Time saving solution for more efficient purchasing
Procurement processes often take time. Dirk Banks, Purchasing Specialist at Northern Colorado Water Conservancy District (Northern Water), realized that there had to be a more efficient way of managing the Northern Water solicitations and overall procurement process. From having to find vendors, to sending out the solicitations, to waiting for possible bid submissions to be returned; Banks was spending too much time manually managing solicitations and vendor communication.  Knowing that BidNet Direct offered a no cost solution to local government organizations, and that many local Colorado counties, municipalities, and districts were already utilizing the sourcing platform, the District joined BidNet Direct's Rocky Mountain E-Purchasing Group in October of 2014. Since utilizing the solution, Northern Water has saved time on its entire purchasing process.
Saves time while still adding benefits
Banks appreciates how much easier finding vendors for any given solicitation is now that Norther Water is utilizing the Purchasing Group. Instead of the time consuming process of manually searching for vendors, Banks simply uses the Rock Mountain E-Purchasing System to find vendors when it's time for a solicitation. BidNet Direct has thousands of vendors that self-register and select the product/service categories they provide. When Banks publishes a solicitation, he can then preview which vendors will be receiving the notification. The Purchasing Group also saves Banks time from having to track solicitation activity, including knowing which vendors actually viewed the bid and corresponding documents. "If I send [a bid] out via email myself, I would have to put a read receipt on there and try to track those receipts, just to see if it was even picked up" Banks explains. He also adds that using e-mail doesn't guarantee anything, noting that he never knew "if it ever got to the right person or got downloaded." Now with BidNet Direct, Banks can easily track his solicitations, identify who the solicitation has gone to, and view who has downloaded any documents or addenda.  
While most of the vendors that Northern Water uses are already registered on BidNet Direct, Banks notes that a few department's "specialty vendors" may need to be guided to the open bid. However, having bids hosted on the Purchasing Group makes informing these vendors much easier, explaining that "I send them an email stating 'here's the bid number, here's the bid name, and here's where you can go get it.'" A new feature on BidNet Direct allows Banks to simply put in the vendors email address before publishing the solicitation to automate and track the email sent to notify non-registered vendors. Vendor outreach and bid distribution is now completed in a matter of minutes, saving Banks precious time. 
Transparency through auditable tracking
The Purchasing Group also provides Banks with a level of transparency for Northern Water that is necessary for a public organization. "From a transparency point of view, with the audit trail available on the system, it takes a lot of worry out of what could and could not be happening", Banks describes. This transparency is important to Northern Water for their joint bids, with Banks explaining "We are the guiding agency for some of these projects, but there are 14 or 15 agencies involved in helping to pay for this [award]. When we can show them it went out to the public and it went to this many people, and this many people downloaded it, [resulting] in this many people making the pre-bid, and this many people bidding…that helps." Northern Water now has a sense of security and comfort in its purchasing process with BidNet Direct's compliance and auditing capabilities.
Other time saving features
Saving time with vendor management, bid distribution, and auditing capabilities aren't the only features Banks finds useful on the platform. With an extensive bid library, Northern Water is able to search and pull bids from hundreds of thousands of past solicitations from other government agencies. Banks often uses the bid library as framework for upcoming solicitations. "I use [the bid library] regularly…to get an idea so I can use it as a guideline for my end users, to give them an idea as to how they could write their [bids]" Banks explains. He also uses the library to see if there are any possible opportunities to piggy back off of other local agencies solicitations, stating "I'll go out and see if anyone locally is doing what we're doing, and if I can piggy back on [their award]."
BidNet Direct's online Q & A allows vendors to ask questions online and allows the buying organization to respond per question, or simply answer all questions within an addendum.  By utilizing this feature, the District eliminates the need to track inbound communications relating to their bid. The platform will perform all the tracking and compilation of questions necessary to ensure that nothing slips through the cracks. This allows Banks to make sure all questions are answered, saying that "we make everything go through the online 'Question and Answers' section. Then we pull the questions and answers down and put them [all] into an addendum and have it logged so we don't miss questions." Ensuring that all questions are answered provides a level of auditing that protects Northern Water from vendors claiming their questions were ignored during the bid process.
Online bidding through BidNet Direct's Electronic Bid Submission (EBS) is another valuable feature for Northern Water. The platform's EBS and lock box provide added levels of compliance protection for Northern Water. Banks says the "electronic lock box is safer than any email I get, and guarantee's fairness in that nobody is disclosing quotes before quotes are due, and that we're not bid shopping…so that we're fair and equitable when [the award] goes out."
Purchasing professionals such as Banks can benefit from features such as the bid library, EBS, and others discussed by Northern Water by utilizing BidNet Direct for e-sourcing at no charge. Banks sees the benefit of the available features and the time saved by using the platform. "There's a lot of power in this system…there are some really good tools in there."