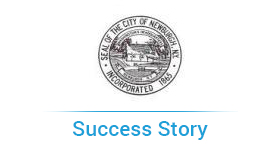 The benefits of switching to e-sourcing
In a time in which everything is going digital, bid management processes within public organizations are following suit. Due to the perceived challenges of adopting new processes, organizations often have been slower adopters of e-sourcing solutions. However, as more government procurement departments go online, they are glad to be rid of the manual processes! This includes Elizabeth Garrison, who has seen first-hand the amount of time that can be saved by using an e-sourcing solution and can't imagine going back to printing out solicitations, manually searching, and contacting vendors or delivering addenda via email.
City needs to streamline purchasing
Elizabeth Garrison is currently the Administrative Assistant to the City Engineer for the City of Newburgh, NY. In this position, Garrison handles all of the procurement for the City's engineering department. Prior to her current position, she was the Administrative Assistant to the City Comptroller for over 20 years, where she was in charge of purchasing for the entire city. Having been a part of the organization for so long, Garrison remembers the time and effort it used to take to solicit for responses. "I would print out the bids, and mail them out hard copy…it's time consuming when you are one person and you are doing all that work to get out one bid," she explained. Garrison knew there was a better way than waiting to receive bids after sending out solicitations, often having to reach out to vendors to verify receipt of solicitation and gauge their interest in submitting a bid. In May of 2013, the City of Newburgh joined the Empire State Purchasing Group, one of BidNet Direct's e-sourcing communities.
How to manage change
Garrison does acknowledge the difficulties of changing processes to an unknown solution that was different than the normal purchasing processes she was accustomed to. She explained "of course learning something new other than what I've known to do for the past 15 years was scary". This is not an uncommon stance amongst those in public sector purchasing. Changing a process means learning a whole new one and breaking old habits, which can be seen as a daunting task. However, these worries were put to ease when she started utilizing the Empire State Purchasing Group: "Being a one person purchasing department for the entire City, it was certainly a blessing," Garrison said of joining the Purchasing Group.
BidNet's customer support team was there to help ease the City's transition to a sourcing platform. With hours outside the typical 8-5, the support team is there to help buyers and purchasing specialists like Garrison who are adjusting to online bid distribution and vendor management. The support team knows purchasing departments have important deadlines to meet. "[The] support team is awesome. I would work late past 10-11 o'clock, and they would be on the phone with me at 8:30-9[PM]." She continued on, saying "Pat [one of the support team members] was the best…and would stay late to help me with those calls. Or if I left a voicemail, someone would always call me back first thing in the morning…they are just an awesome team." BidNet Direct's dedicated support team, located not far from Newburgh near Albany, NY, has specialists for both buyers and vendors to answer questions and help ease the transition over to the streamlined processes of digital purchasing.
Increase vendor outreach
Vendors are an important part of the City's purchasing processes, and increasing vendor outreach has been a benefit to Garrison. "I have a much bigger vendor database through [the platform]. It's not just state and local, now [our bids] are solicited nationwide, which is using our taxpayers' money to the best benefit in which it should be utilized. Our vendor contact and [bid] competitiveness have really opened up since we've gone with BidNet [Direct]."
Time savings with one stop shop
While opening up their bids to more vendors was beneficial, the real value for the City of Newburgh lies in how much time the Empire State Purchasing Group has saved them, with Garrison calling it a "one stop shop" for all sourcing practices. Discussing the benefits, Garrison says "it saved me a lot of time from sending bids out." BidNet Direct has saved the City the most time by eliminating the need to go out and search for relevant vendors, and no longer having to rely on internet research to find potential bidders.
In addition, the platform also helps cut down the amount of time it takes to prepare and send out bids. With the ability to reuse solicitation forms, users need only upload the current specifications for a bid to be ready for distribution. Garrison states that this feature can mean "just minutes compared to hours of preparation" for sending out a single bid.
Auditable tracking
Empire State Purchasing Group and BidNet Direct also provide tracking and auditing information to all participating government buying organizations. "[Vendors] can't come back and say that we didn't include them on a bid," Garrison states, as they are now available online at no cost. The platform tracks vendors who were automatically notified of the solicitation and downloaded the original bid, as well as any addenda that have been issued. This helps organizations such as the City of Newburgh ensure that the vendors submitting bids have all of the relevant information, and aren't submitting bids based on bits and pieces they've acquired from third parties. Garrison explains that the City of Newburgh will only accept bids from vendors listed on BidNet's plan holders list, to ensure that the bids they consider are from vendors who have properly received and downloaded all of the necessary information provided. "[Empire State Purchasing Group's] plan holders list can narrow down [unqualified vendors] to those responsive for having all of the relevant information]," she said.
Advice for municipalities
Garrison's years of experience utilizing the Empire State Purchasing Group have made her a firm believer that its benefits far outweigh any concerns that public purchasing professionals may have regarding change. When asked what advice she would give to other municipalities looking at BidNet Direct as an e-sourcing solution, her advice was simple; "Just give it a shot. Give it a try and test the waters, and see what you're going to get. With the platform BidNet Direct provides, you are going to be astonished in the end with the results you'll receive, as well as with the [BidNet Direct] team's fantastic cooperation and knowledge."