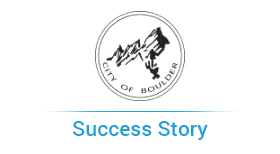 City of Boulder Purchasing Saves By Going Digital
Many municipalities throughout the country are looking for ways to improve their purchasing process. The City of Boulder has found a solution that automates these purchasing processes while saving time and meeting grant requirements for vendor outreach. Several City purchasing professionals – Dave Bannon (Purchasing Manager), Calder Grey (Purchasing Coordinator), and Pamela Andrus (Purchasing Coordinator) – addressed their use of BidNet Direct's Rocky Mountain E-Purchasing System and how their purchasing processes have improved over the years.
Saving time with purchasing process & guidelines        
Like many in public purchasing, Grey and the rest of the team at the City of Boulder remember a time in which "everything was paper."  Having been in procurement for over 20 years, Grey discusses the manual processes required before e-procurement solutions were available. "In the very beginning, people would have to come in and secure paper copies of the bids. We would advertise in the local papers, as well as all of the various digital plan rooms that were out at the time. But everything was paper at the beginning" he explains. Grey has been through the transition of processes; from the use of paper, to the City using their own website to post bids, and now with the ease of utilizing BidNet Direct. When asked to quantify the time saved utilizing BidNet Direct for bid and vendor management, Grey explains, "It's significant. Beforehand, you had to arrange to have things printed, and you had to have all this stuff to back up a paper system that we just don't have to do now… I would guess that 75% of the process of what we had to do in the old system is gone. We save time because of the digital system and the publishing of [bids] on BidNet."
The City of Boulder has multiple buyers and purchasing coordinators within its Purchasing Division; however, it is a decentralized purchasing organization. Following guidelines and policies related to City purchasing is of the upmost importance. Grey explains that each department does RFP purchases; however, purchasing gets involved for any solicitation in which the spend is "at $50,000 or greater." He continues, "Everything is required to go through a formal bid process [at that threshold] through purchasing. Everything that is over $50,000 as far as expenditure requires a formal bid process, whether its construction, services, or materials, everything MUST go through a competitive bid process." BidNet Direct's Rocky Mountain E-Purchasing System helps with that competitive bid process in part because of the sheer volume of qualified vendors (tens of thousands!) on the platform.
Digitizing vendor management
How does having a digital and large vendor pool effect the City's vendor management? Vendor outreach has not only increased since utilizing BidNet Direct, but overall vendor management has also improved, saving the City time and money.
The Rocky Mountain E-Purchasing System provides a level of credibility with funding and grant providers that otherwise would require added manual outreach by the City and other local government agencies. Many federal or state funded projects include certain requirements regarding the distribution of bid information, including placement of a bid in the agency's newspaper. Grey explained the process by saying, "When a government agency puts out a solicitation, there is usually something in their code that requires them to put the advertisement out in some legal fashion." For several of Boulder's solicitations, including those that are federally-funded, the Rocky Mountain E-Purchasing System serves as their paper of record. "For pass-through grant projects where the funding agency is the federal government through CDOT, they recognize BidNet Direct as our paper of record, so we don't have to have those solicitations put in our local newspaper to meet those guidelines". This allows the City of Boulder to save both time and money by not having to put the solicitation in their local newspaper for required outreach.
In addition, Boulder's handling of vendor requests for information, such as plan-holders lists or addendum and award dates, has been simplified since utilizing BidNet Direct.  It is important that potential bidders within the vendor community have all of the information required before submitting a response. This includes important information such as any addenda that were issued or any questions that were answered publically. Grey explains what has happened in the past when a vendor did not register on the platform, but found the original solicitation from another source, saying "[the bid response was] missing some key elements from an addendum that was issued, which made their response non-responsive and they were disqualified. One reason the City and other participating agencies request that all vendors register to receive alerts regarding upcoming solicitations and any issued addenda is to make certain that bidders have all of the information, and do not waste time submitting a non-responsive bid. The City always tells interested vendors, "[Rocky Mountain E-Purchasing System] is where we list everything, and if you go through anyone else, you are not guaranteed to have up-to-date information."
The City of Boulder also tracks which vendors have been notified of the solicitation, who viewed the open bid, and downloaded all the necessary information. Using the platform's robust reporting features, they can then compare their received bids against the reports to ensure that each one was submitted knowing all of the information provided. BidNet Direct even has a time-stamp on each vendor's actions related to a specific solicitation throughout the process.
Electronic responses
Allowing vendors to submit responses online gives an added layer of auditable tracking and control and often saves the vendor time, money, and headaches involved with sending a hard-copy. While many local governments understand that electronic bid submission may be the way of the future, they acknowledge that there is a learning curve associated with this. "For a long time, I preferred hard copy because you had it there in front of you. You could set things out and move things around, that kind of stuff, and it was still there. You can still do that digitally, it just takes a different set of skills," Grey explains.
However, BidNet Direct's electronic bid submission feature is an easy-to-use way to have all of your responses available digitally and provides a back-up of each bid response that otherwise wouldn't be easily available with printed submissions. Bannon discusses this benefit saying, "What I like is that with the electronic submissions, I always know there is going to be a copy of that submission available to us. We are a decentralized team, and hard copy responses were often distributed and archived in departments across our organization. It's nice to know that if you get electronic submissions, they will always be there and retained in case you get a request two years from now." BidNet Direct keeps all records and documents, and makes them available to the City for 7 years (or longer, if required). Grey adds to that, "It makes it easier. If they're in digital format now, we can download those into our records without having to scan them. So it just makes it easier for us to have a complete record." Offering vendors the ability to respond electronically through BidNet Direct has helped the overall purchasing process, including the time required before turning over responses to departments and/or purchasing. By using EBS, all responses are accessible by the users upon solicitation closing and are able to be downloaded, emailed, or used for online evaluations by end users or evaluators. "It's been a much better process for us. Just because we are spread out among many buildings, and purchasing is not located in the same building where bids would be turned in to. So it has made the whole process a little bit better for us," explains Grey.
With BidNet Direct's easy bid distribution, robust vendor management, and features like the electronic bid submission to help save time, the platform helps the City of Boulder improve their bid and vendor management processes.