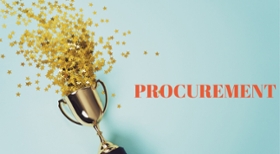 BidNet Direct Customers Awarded for Excellence in Procurement
In honor of Procurement Month, we're proud to shed light on some of the awards that procurement professionals can receive for the hard work in the public purchasing sphere. These include awards granted by the National Procurement Institute (NPI) and the Institute for Public Procurement (NIGP).
In some ways, being a purchasing professional might be considered a thankless job. Most of the time, there's simply no surprise party or thank-you ceremony awaiting those who work day-in, day-out on complex public procurement projects. After a project is complete, those who do the hard work of making sure your tax dollars are used effectively and efficiently usually just breathe a sigh of relief and move on to the next project.
Fortunately, this isn't always the case. Every year, the good folks at the National Procurement Institute award the Achievement of Excellence in Procurement (AEP) to those in the sector who go above and beyond the call of duty to push the field forward and inspire the rest of us to do better as well.
Launched in 1995, the AEP award is designed to "recognize organizational excellence in public procurement", according to the NPI website. The AEP is awarded based on standardized criteria designed to measure innovation, professionalism, productivity, e-procurement and leadership attributes of public procurement organizations.
Public procurement entities of any size are welcome to apply to be considered for the AEP. In addition to the NPI, the AEP is sponsored by the California Association of Public Procurement Officials (CAPPO), Florida Association of Public Procurement Officials (FAPPO), National Association of State Procurement Officials (NASPO), NIGP: The Institute for Public Procurement, National Association of Educational Procurement (NAEP), Texas Public Purchasing Association (TxPPA), and the Canadian Public Procurement Council / Conseil canadien des marchés publics (CPPC). 
The AEP is also supported by the Airport Purchasing Group (APG), the National Intergovernmental Purchasing Alliance (National IPA) and the Universal Public Procurement Certification Council (UPPCC).
BidNet Direct Customers Among Those Awarded
Several BidNet Direct customers have been recognized by the NPI and awarded the Achievement of Excellence in Procurement. Below are just some of the purchasing professionals and BidNet Direct participating agencies to be recognized. Congratulations from all of us here at BidNet Direct!
| | | | |
| --- | --- | --- | --- |
| Organization | Name | Certification | Title |
| Arapahoe County Government | Keith Ashby | CPPO | Purchasing Manager |
| City of Arvada | Nancy Allen | C.P.M. | Purchasing Manager |
| City of El Paso | Bruce D. Collins | CPPO | Purchasing Director |
| City of Longmont, CO | Diana Wilson | CPPB | Purchasing & Contracts Manager |
| City of Rochester Hills | Lisa Cummins | CPPB | Purchasing Manager |
| City of Roswell | Gregory Anderson | CPPO | Purchasing Manager |
| City of Santa Clarita | Joseph Oerum |   | Clerk & Contract Services Manager |
| City of Victoria | Gilbert Reyna Jr. | C.P.A. | Director of Finance |
| Comal County | Ramona Womack | CPPB | Purchasing Director |
NIGP chapter awards
The Institute for Government Procurement (NIGP) also recognizes individual NIGP chapters for excellence with their Chapter Awards Programs. According to the official website, the Chapter Awards Program "recognizes Chapters who have developed programs that educate, provide professional support, and champion advocacy initiatives that benefit the membership, the profession, and constituents."
Past winners of NIGP Chapter Awards have included several BidNet Direct members via chapter membership and leadership. We're proud that our member organizations are getting the recognition they deserve!
So, procurement professionals, as you go through your challenging workdays, remember that people are taking notice of your efforts – and importantly, taking the time to say thank you. Happy Procurement Month!
Find out how BidNet Direct can help your government organization today!