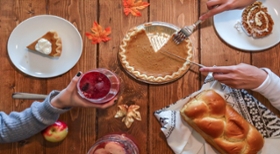 Holiday Spending: Thanksgiving
Each November, Americans give thanks for family and friends and celebrate Thanksgiving. Many offices across the country also share a meal and give thanks for great co-workers and doing a job that they enjoy.  Luckily most government procurement offices are not open on the holiday, allowing you to spend time with family and friends and enjoy the Thanksgiving holiday. While you're preparing for your time off, why not read a bit about the average consumer spend on the traditions of Thanksgiving.
The Big Meal
The cost of the big Thanksgiving meal can add up.  Lendedu reports that in 2017, the average family will spend over $165 for Thanksgiving. Out of that cost, $97.55 of that comes through the cost of essentials for a Turkey Day feast such as food, wine, décor, etc. That includes over $4.85 billion spent on over 52 million turkeys for the bird's most popular day of the year! The rest of the average spend goes towards gas, hotels and other travel expenses to get home for the holiday.  Eating fantastic, home cooked meals is often the first thing people think of related to the Thanksgiving holiday, but it is not the only holiday tradition.
Black Friday
Earlier and earlier each year we're seeing commercials or receiving emails from our favorite stores for their Black Friday sales, or even commercials advertising that they will be open on Thanksgiving Day itself. In 2017, planned on shopping on Thanksgiving Day. However, Black Friday is still the busiest day of the long spending weekend with over 115 million people shopping on the most discounted day of the year! Of all the people that are shopping during the long Holiday weekend, 26% consider their Black Friday weekend shopping to be a tradition! Taking those numbers into account will easily explain how over 30% of all retail consumer spending is done So when you're out shopping, remember to give thanks for the 22% of people that are working on Thanksgiving and making it easier for you to get the best deals of the year.
"Nontraditional" traditions
There are other traditions that Americans have on Thanksgiving as well.  For instance, many people participate in a local run, often dubbed a "Turkey Trot". Along those same lines, maybe your family has an annual football game before your big dinner! Or maybe you want to do some good before sitting down for your yearly feast by volunteering. While most think of Thanksgiving volunteering as helping out at a food kitchen, there are many other ways to help the needy as well. For instance you could deliver meals or visit your local nursing homes. And if you don't have enough time to volunteer but still want to do good, consider donating food to a local food bank or sending a care package to our troops overseas. Just because you can't donate your time doesn't mean you can still do good during the holiday season. Being able to do good allows you to take stock of everything that you have, something very important when it comes time to give thanks.
This Thanksgiving, be sure to give thanks for all that you have and all that may come. The BidNet Direct team is very thankful to have such wonderful participating government partners on the platform. And, we are thankful that there is no such thing as too much gravy on the mashed potatoes!
 Find out how BidNet Direct can help your government organization today!