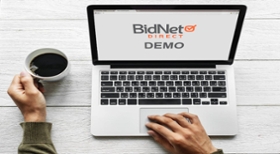 Find out all about e-sourcing through demonstrations
Looking to see what is available to your agency to streamline your purchasing process with an e-sourcing solution? Seeing the solutions with your own eyes is a great way to find out how they will help your government organization save time and money with its sourcing process. With BidNet Direct, a small amount of time (as little as 15 minutes) can make a big impact in learning about the simplified process of reaching an existing vendor database, full of vendors who are eager for the chance to respond to local government bids. Learn why it's important to take a demonstration to familiarize yourself with BidNet Direct's platform before taking the next step and publishing your first solicitation on the platform.
Why do I need a demo?
BidNet Direct's bid distribution and vendor management solution is extremely easy to use (just see what other purchasing professionals have said!). However, it also has a long list of features and functions, not all of which may be applicable to you. We want to ensure that the process is as easy and time-saving as possible, and the best way for us to do that is to provide your organization with an initial walkthrough to show you exactly how the platform meets your agency's day-to-day sourcing needs.
Who provides my demo?
All of our demos, whether it be for our no cost purchasing platform or one of our value-added service modules like Contract Management, are conducted by a member of our dedicated and knowledgeable team.
How many people can I have on my demo?
As many as you need! We encourage your agency to have all who are involved with the purchasing process to attend the demo and see how seamless our platform can make your purchasing process! In fact, some agencies involve their entire purchasing team in the walkthrough of the solution in order to familiarize their team with the setup early on. With various roles available to assign to each user at your agency, the platform can be used by anyone involved with your purchasing process, from end users to the Procurement Director!
How long will a demo take?
Our team likes to ensure that you see all of the capabilities and functions of the platform, and that you have a full understanding how the system can fit your agency's needs. However, they understand how limited your time may be. That's why all of our team members can provide your agency with a demo in as little as 15 minutes However, if you do have available time in your schedule, you can schedule an extended, 60-minute demo which will provide a more in-depth view of the features and functionalities that BidNet provides, and allows for plenty of time for any questions that you may have. Our team takes pride in their openness and flexibility to meet your needs, and can always circle back to provide your agency with a more in depth look at your customized online training.
What will my demo look like?
On your demo, your dedicated team member will walk you through how to post and manage your solicitations through the platform. They'll also provide a thorough walk-through of how you can manage all of your vendor lists within the platform. From there, your demo will dive into specific features and functionality that the portal provides that will fit your organizations specific needs. Best of all, this entire process is done virtually via phone and online conference setup
What happens after the demo?
After the demo, and you've decided to come on board and an optional additional training session you'll be up and running on BidNet Direct!  You'll then be able to distribute bids, addenda, and awards to our extensive vendor pool! The Buyer Support team is here to offer assistance any time after your training. We have a team located in New York available from 8 AM to 8 PM EST Monday through Friday. Whether you need something as basic as a password reset, or a refresher on how to utilize a specific feature within the solution, the Buyer Support Team is here!
Find out how BidNet Direct can help your government organization today!