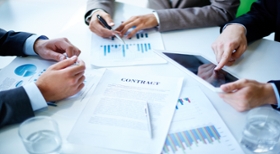 Contract Management in Action: Functionality and Benefits
As any experienced procurement professional can tell you, contract management is about more than just contracts. In addition to the main contract document that is drafted and shared between a buying organization and their supplier, there are other documents and processes that need to be managed during the contract phase. These can include but are not limited to Certificates of Insurance (COIs), certificates related to specialized skills or experience, contract addenda and more.
This is why having a robust suite of Contract Management tools as part of an e-procurement solution is essential for buying organizations. Below, we'll take a look at what contract management can do and the benefits it can deliver.
Document storage and search
An unlimited number of documents can be stored and accessed with a powerful search feature, making it easy to organize any number of contract documents and find important items quickly.
Notifications & Alerts
By setting up automated reminders and alerts related to contract deadlines and other critical dates, buyers and suppliers benefit from improved process visibility and coherence during the contract stage.
Contract templates
Dynamic document templates are provided to contract management users, making it possible to create detailed contracts with only a few clicks.
E-signature
Contract management provides users with optional e-signature functionality for improved security and accountability during the contract process.
Detailed metrics
It's easy to measure the success of an organization's contract management process with a user-friendly display of relevant metrics.
Unlimited users
Organizations that opt for more-advanced versions of certain contract management suites can provide access to an unlimited number of users.
Configurable workflow
Contract management requires input and approvals from many stakeholders, and this complex process is made simple with a configurable workflow to ensure the right people receive the right document at the right time.
Benefits of contract management
Typically, organizations that adopt contract management as part of an e-procurement solution enjoy some or all of the following benefits following adoption:
• Improved management of vendor obligations and commitments
• Streamlined Request for Quote (RFQ) process
• Consolidation of disparate systems in an integrated solution
• Improved enforcement of business rules
• Better visibility on compliance issues
• Enhanced data visibility
Buying organizations also realize operational efficiencies (in other words, save money) by adopting contract management. Identifying areas of needless or wasteful spending, bottlenecks in the approval process, or other issues can make contract management one of the most valuable investments an organization can make.
Case study
One customer operating in the public sphere was looking for a Contract Management solution that would allow them to create and award service contracts, improve compliance processes and implement a new Environment, Health and Safety initiative in addition to realizing other efficiencies. Requiring a web-based solution that would be both cost-effective and delivered in less than four months, the solution delivered to the customer enabled contract management from the beginning to the end of the process, reduced the number of oversight forms that needed to be completed, helped relieve the workload of Project Managers and provided a risk and deficiency analysis tool, all while retaining the ability to upgrade in the future.
Find out how BidNet Direct can help your government organization today!