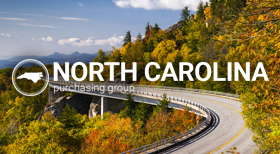 Benefits of utilizing the North Carolina Purchasing Group
BidNet's North Carolina Purchasing Group is a no cost solution for all local government agencies to advertise and manage their bids, documents, and addendum online. Local government purchasing departments can improve vendor outreach, streamline solicitation management, and track the entire procurement process utilizing the North Carolina Purchasing Group.
Time saving
Participating agencies, such as Iredell County and the City of Jacksonville, use the North Carolina Purchasing Group for their bid and vendor management. All solicitations and documents are published through the platform, and vendors are automatically alerted to matching opportunities. The participating government users can track all vendor activity surrounding a solicitation for increased purchasing transparency, including the number of matched suppliers, document and addendum downloads, and more. With optional features such as approval workflow, online Q&A, bid response evaluation, contract management, and electronic bid submission, BidNet Direct provides local government agencies with a full e-sourcing solution.
Vendor outreach
Vendors gain instant access to local North Carolina government bid opportunities within the platform by self-registering on the Purchasing Group.  Over 5,200 vendors are registered specifically looking for government bids within North Carolina, giving buying organizations a broad outreach to both local and national suppliers. Using the 'Courtesy Email' feature, participating governments can also alert non-registered vendors of open bids by simply entering in an email address. With a growing vendor pool, solicitations have increased competition through a much broader vendor outreach.
Buyer support
The BidNet Direct customer support team is available from 8am-8pm Monday through Friday. By directing vendors to the North Carolina Purchasing Group, agencies can eliminate the burden of fielding phone calls from vendors regarding how to download bid documents, registration information, and where to access bids. In addition, the buyer support team helps to ease the transition to the platform with personalized online training and continued support with the platform. "Whether it's their first solicitation or their fortieth, we are here to help walk our agencies through any questions or issues they may run into. We know how valuable everyone's time is these days, and we want to do anything we can to help our participating buyers save as much time as possible", explained Jennifer Sangiorgi, Buyer Support Specialist.
Bid library
Agencies registered within the North Carolina Purchasing Group will also have access to BidNet Direct's bid library, which contains over 180,000 solicitations published by other participating agencies. Buyers have the ability to view solicitation details, specifications, and/or documents from bids similar to their own upcoming solicitations. The bid library can be filtered by location, bid requirements, NIGP categories, and more, so that buyers can easily find relevant solicitations. A national bid library is also available, with hundreds of thousands of additional bids and documents.
Electronic bid submission
The North Carolina Purchasing Group offers local government agencies the option of accepting bid submissions electronically through the platform. Electronic bid submission (EBS) has gained popularity within public sector purchasing as organizations take steps to digitize. By accepting bid submissions electronically, participating agencies eliminate the manual processes required with a formal bid opening, saving the vendor and buying organization time. EBS on BidNet Direct is easy to use, has a lockbox for secure bid requirements and is free for both the buying organization and vendors.
Find out how BidNet Direct can help your government organization today!